After one year the world is still facing COVID-19 crisis, 2nd and 3rd lockdowns are happening at the moment and mutations of the virus are rising. Who would have thought! In 2021 we hopefully #restarttourism. More sustainable.
---
"Meiner Seel" ("My Soul"): A piece by Austrian musician Hubert von Goisern that fits the time with nice pictures from Salzburg.
"What is true? What is false? What is askew - and will it ever be put straight? Hubert von Goisern sings about the blurring of the line between fact and opinion, and how black and white are sometimes just colours. That we should trust. A melancholy song, but full of warmth, soulfully accompanied by a string quartet. A song that leaves you with a sense of hope." (https://www.hubertvongoisern.com/en/)
---
2 month after my last update we are still in the middle of the crisis or even at the beginning of another possible lockdown (some countries and few counties already are).
Today headlines are overturning:
Switzerland counts more than 6.000 cases a day
Germany more than 11.000
Austria more than 2.500
The Netherlands more than 10.000
France more then 42.000
The U.S. more than 70.000
...
Czech Republic and The Netherlands are locked down, Denmark closed boarders for tourists again
Local, regional and national governments are tightening measures. In Austria meetings are basically banned to a maximum of 6 people, in Switzerland only 15 people are allowed to meet join public areas, just to mention some of them. And the mask is basically back to all public areas.
Tourism and Hospitality is still facing hard times. During summer business travel and city hotels suffered the most due to international travel restrictions while some alpine leisure destinations and hotels achieved better occupancy rates than before. Now winter season is approaching and Austria and Switzerland are red-listed by the most important source markets. Destinations and hospitality industry are preparing safety, hygiene and communication strategies.
This is how Europe's Corona-Map looks like today: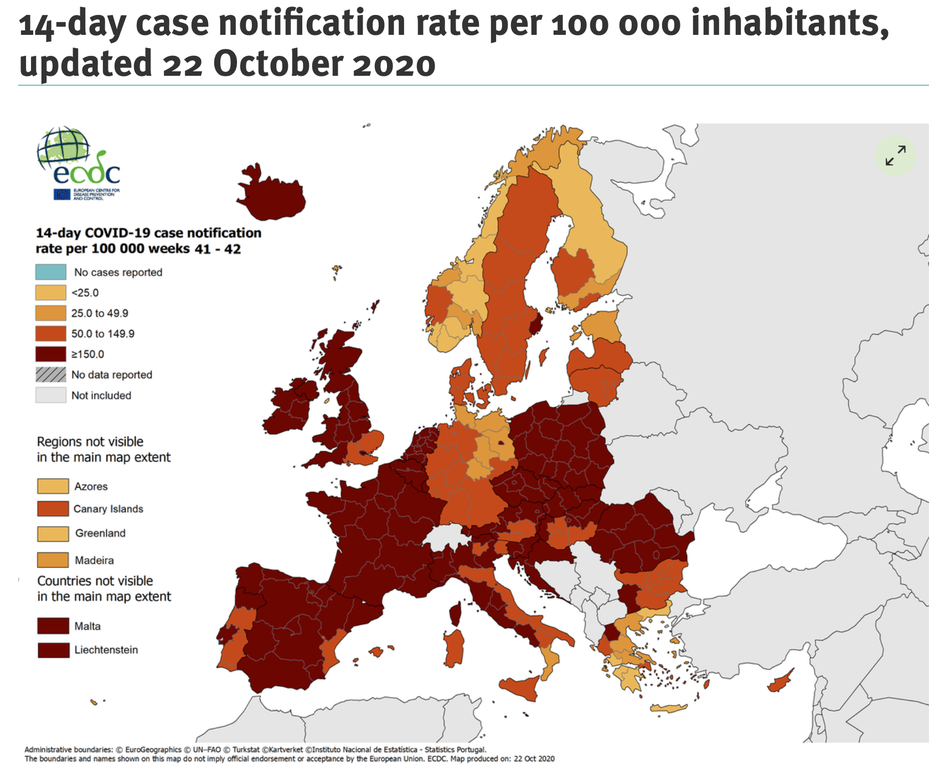 ---
It's already end of August which means our life is in "Corona-Mode" for more than 5 months now.
I am focussing more on the impact on the economy than before and don't see relevant positive changes for the tourism sector so far. Of course, inbound tourism within the DACH-countries recovered faster than outbound, but still hotels, restaurants, travel agencies, tour operators and the event and cultural sector are struggling internationally. Job cuts, immense revenue losses (up to 95% compared to 2019) and insolvencies determine the news' headlines, also in Switzerland, Austria and Germany.
I was asked several times why we had to lead TravelConnect into insolvency so early and if there weren't any subsidies by the government. Today with some distance I believe that our decision was right, in the right time, and carefully considered. I received some helpful subsidies by the government privately but for TravelConnect the only possible help would have been a loan to cover fixed costs and short-time work for our entire team. I still do not see adequate recovery of any of our line of activities with the exception of individual tours within the home countries. Since TravelConnect was the first insolvency caused by Covid-19 crisis in Austria (according to KSV1870), some other tourism & hospitality companies also had to declare bankruptcy (for example Siglinde Fischer after 35 years, STA Travel after 40 years, Sofitel Berlin Kurfürstendamm, Vapiano). 
Big players - not only in tourism but also other industries (e.g. automotive) are talking about enormous forthcoming job cuts (Lufthansa, TUI, Daimler, Volkswagen, etc...). The world tourism organisation UNWTO sees 100 to 120 million jobs at risk due to Corona.
Travel industry will recover sooner or later. I hope this is the chance for more serious sustainability and we really take care for the cultures and natures we are travelling to.
---
Global measures to contain COVID-19 pandemic affect not only tourism and hospitality businesses but our branch was one of the first that was hit badly. Travel agencies, accommodation providers, restaurants and leisure businesses were partly or even totally closed down. Tour operators, airlines and suppliers of experiences were forced to cancel bookings day by day and still have to.
I co-owned a travel agency and tour operator that was also in trouble. After first having tried to cut off costs where possible and sending some of our team into unemployment (short-time work was never an option to survive) we were forced to declare insolvency which was officially announced by court on 28th Apr 2020. Since 4th May 2020 the company is officially closed down. Before that we managed to work remote within a downsized team from our homes to support and serve our clients to get back home and to cancel upcoming trips. We were 8 weeks working hard to reduce damage as much as possible for our company, our clients, business partners and our team.
Meanwhile it is July 2020. I am still involved in the closing of our company. The German Ifo-Institute reports that 85 % of travel agencies and tour operators, 76 % of hotels and 67 % of all restaurants see their existence in danger! The German "Handelsblatt" just headlined: "Summer travels 2020 threatens to become a disaster" (linked article in German only).
The seminars we are offering at Tourismuspartner for hospitality and tourism are mainly postponed to autumn, some of them are cancelled. But there is a request for webinars and eCoachings that quite work very well.
Privately as a patch work family we live in Switzerland and Austria. For 6 weeks I was not able to see and take care of my daughter. But there is a solution since 10th April: Austria declared parental custody being an exception for the restrictions to entry the country. I am very happy about that first step back into (a new) normality and I managed to cross the Swiss-Austrian-boarderagain for the weekend of 17th till 19th April (never thought that this could once become a problem) without quarantine. Meanwhile we are able to visit back and forth each other again. 
My thoughts about corona crisis and learning's from it are:
We can adapt to new situations incredibly fast.
We are forced to think about new ideas. That's enriching!
For me there is no "right" or "wrong" strategy of our countries or governments to fight the crisis. Any strategies on Corona crisis show positive affects in the short term whether it is the so-called "Swedish" way or the quite strong restrictions Austria introduced or the measures Switzerland and Germany are taking. We just do not know much about this new virus, so affects in the long-term have to be researched. Stop competition.
People, organisations and countries started to work together and support each other again.
In general I notice a growing solidarity.
Most of the people behave much more gentle and friendly than "before", on the streets, bikers, car drivers and even in the supermarkets when buying their stuff.
There is more time to connect to friends and relatives. We learn better to care for relationships.
We may make positive experiences by sitting in the same boat which could cause the reduce of egoism.
I hope all these positive effects will last for future. 
---
---
Please contact me when you need advice, help or a project manager...
with over 20 years of experience in tourism and hospitality management
with profound knowledge in online marketing and distribution for hotels and destinations, restaurants and leisure businesses
setting up your tools for working remote by using remote desktop and helpful apps
with the experience in managing insolvency.
And let me know If you need someone to deliver groceries, food or other stuff by bike or car in Zurich.
During Corona crisis I offer my help and work:
For free for private people and NGOs
On a pay-what-you-want basis for businesses
Please also see Tourismuspartner's webinars and eLearning (available in English and German)
Download Tourismuspartner's info about one-to-one eCoachings here
60 min eCoaching zur Optimierung von Webpräsenz & Onlineverkauf
eCoaching-webmeeting.pdf
Adobe Acrobat Document
859.5 KB
60 min eCoaching to optimize your online presence & distribution
eCoaching-webmeeting-EN.pdf
Adobe Acrobat Document
449.8 KB
---
This is a list of sources (some of them available in German only) which I use to stay informed and to form a view on how we could get re-started again:
---
Many countries are now communicating and promoting to spend "holidays at home" and suggest their people to support the country's own destinations and hotels.
Well ok, but maybe this strategy is not the solution for our branch in this crisis. 
Why? Just 3 arguments I find important to think about:
For me the idea of travelling is not the idea of staying inside a countries boundary. It is the idea of exploring destinations, irrespective of whether it is inside or outside my own country or even both.
Of course travelling the own country is an attractive option. But it was also before Corona. So why now using this crisis to promote staying in the country. We are a global connected industry. Many destinations just depend on guests from other countries. We have this situation in Vorarlberg where most of the revenue in tourism is made by German and Swiss guests.
I can absolutely understand headlines like that: "Bauzá demanding apology from German tourism commissioner"
I think we have to think much more regional than national when it comes to a re-opening of infrastructure. Political measure force people at the moment to stay inside their countries. So, of course first guests may be national and not International ones.
---
An interesting source for me is the "Recovery-Check" of the German Federal Tourism Competence Center in his latest update of 23rd April 2020 about how tourism revenue could be coming back to "normal business" in 3 different scenarios: optimistic, realistic and pessimistic: